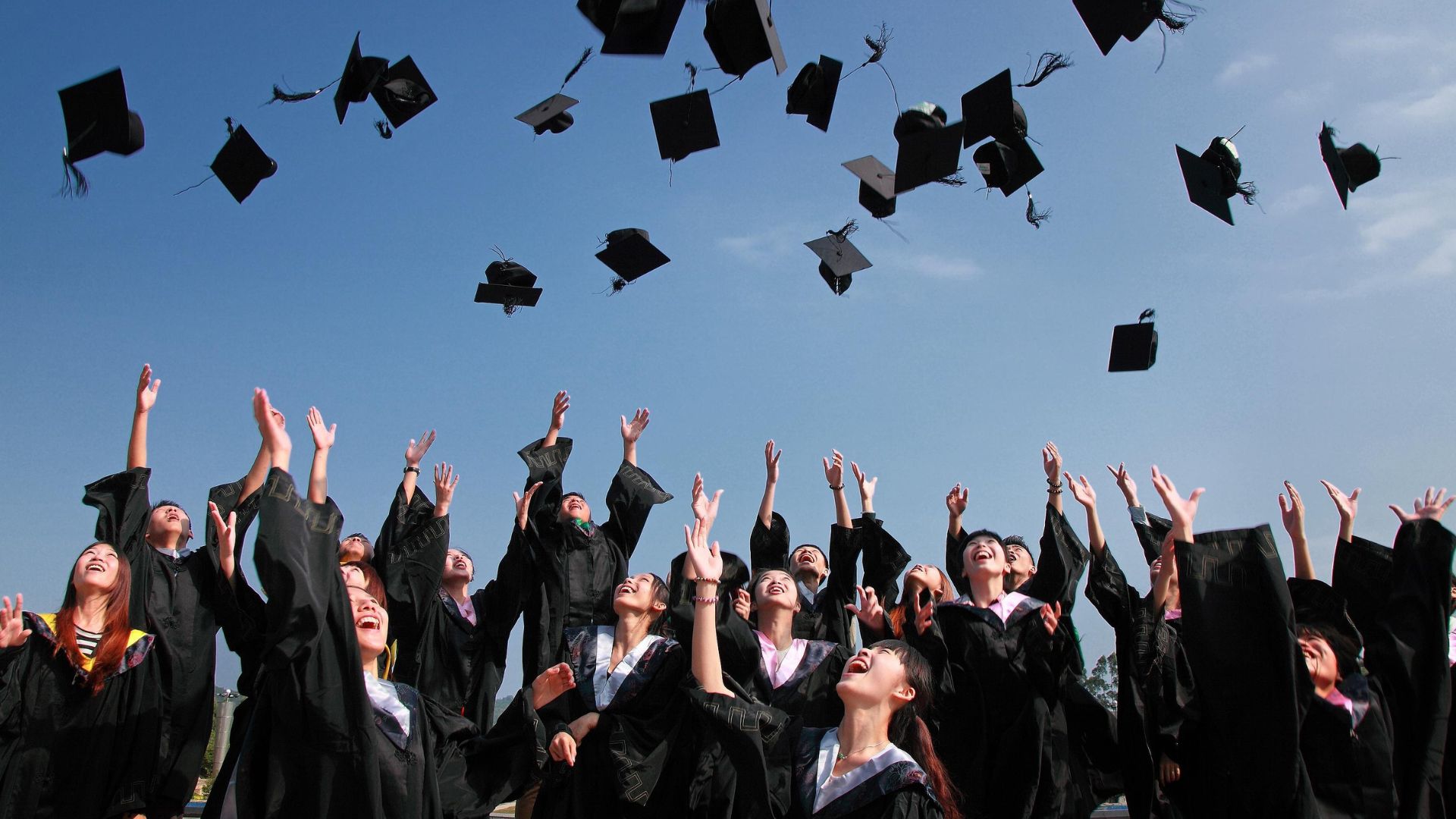 With over 350,000 cardiac arrest cases occurring outside of a hospital, professional medical care is often not an option. However, taking immediate action is still crucial to saving many of these lives.
If a person's heart happens to stop beating, it can no longer pump oxygenated blood to vital organs in the body, and this can quickly lead to death. In such events, bystander CPR may double a person's odds of survival.
As more places realize how important CPR can be, they've started to require students to learn the skill before they graduate. Over 40 states have passed legislation that makes CPR training mandatory, and others may be on their way to doing so. Let's examine what states require CPR for graduation and what the requirements may be.
Why is CPR for Graduation a Necessity?
Schools are becoming aware that students' needs post-graduation and their contribution to society will rely on more than academic readiness. Thus, an increasing number of institutions aim to give students additional technical and practical skills.
This includes CPR training, as it's a life-saving skill to possess that, unfortunately, not everyone is informed about. Many people are unaware of precisely how crucial immediate medical aid is for survival. But, given that over 90% of cardiac arrest cases take place outside of a hospital setting, it's essential that we work on changing that. 
The probability of survival can be doubled or tripled if an individual receives CPR within the first few minutes following cardiac arrest. However, bystander CPR is only performed in 35% to 40% of out-of-hospital cases.
Therefore, various states have started viewing education regarding CPR as vital and as a graduation requirement. In fact, there is evidence to suggest that incorporating CPR training into schools can make a significant difference in outcomes. In Norway, where CPR is part of the student curriculum, the average survival rate from out-of-hospital cardiac arrest is 25%, whereas, in the US, it's only around 10%.
In-person vs. Online CPR Courses
Even though CPR courses like those offered by the American Heart Association (AHA) can be conducted online, to earn a certification card, individuals must get hands-on training with an instructor or a voice-assisted manikin.
While students may be required to receive CPR training, they don't need to get a certification to graduate. Thus, they can be instructed in person, online, or via video – the specifics depend on the state and any relevant regulation it may have. However, high schools still seem to favor in-person tutoring above other methods.
What States Require CPR for Graduation
The first law requiring CPR training for students was implemented in Alabama in 1983. Schools with trained personnel could start conducting instructional classes that same year. Otherwise, the State Department of Education would provide CPR training for teaching personnel, and by September 1, 1984, all public schools would have to teach CPR to students.
In the last few decades, particularly in the mid-2010s, the number of states requiring CPR for graduating high school has significantlyincreased. As of 2022, over 40 states, as well as the District of Columbia, have passed bills relating to CPR training for high school students. However, the precise laws and requirements differ from place to place.
It's likely that this number will further rise in upcoming years as various bodies like the AHA and WHO (World Health Organization) fully support and encourage teaching children important life-saving skills. Ideally, CPR training in schools will eventually spread to all 50 states.
States With Required CPR Training Before High SchoolGraduation
The following is a list of all the states that have enacted some form of law that mandates or encourages CPR training for high school students prior to graduation.
Alabama: In effect 1984.
Arizona: In effect as of the 2017-2018 school year.
Arkansas: In effect as of the 2014-2015 school year.
California: In effect as of 2017-2018. Note that legislation passed in CA requires individuals enrolled in a health class to learn CPR, which doesn't cover all students.
Connecticut: In effect as of 2015, training began in the 2016-2017 school year.
Delaware: In effect as of 2014-2015.
District of Columbia: In effect 2016.
Florida: In effect as of July 1, 2021.
Georgia: Effective as of the 2013-2014 school year.
Idaho: Effective as of the 2015-2016 school year.
Illinois: In effect as of the 2015-2016 school year.
Indiana: Began in the 2015-2016 school year.
Iowa: In effect 2008.
Kansas: In effect 2017.
Kentucky: In effect 2016.
Louisiana: In effect 2014.
Maine: In effect 2015.
Maryland: In effect 2014.
Michigan: Effective as of 2017-2018.
Minnesota: In effect 2014.
Mississippi: In effect 2014.
Missouri: In effect 2017.
Montana: In effect 2018.
Nevada: In effect 2017.
New Jersey: In effect 2014.
New Mexico: In effect 2016.
New York: In effect 2015.
North Carolina: Effective as of 2014-2015.
North Dakota: Training began in 2015-2016.
Ohio: Effective as of 2017-2018.
Oklahoma: In effect 2014.
Oregon: In effect 2015
Pennsylvania: Effective as of 2019-2020.
Rhode Island: In effect 2013.
South Carolina: Effective as of 2017-2018.
South Dakota: Effective as of 2017-2018.
Tennessee: Training began in 2013.
Texas: In effect 2013.
Utah: In effect as of the 2014-2015 school year.
Vermont: In effect 2012.
Virginia: Passed in 2013; training started in 2016-2017.
Washington: Effective as of 2014-2015.
West Virginia: In effect 2015.
Wisconsin: First implemented CPR training in 2011 and later amended the act in 2015-2016. The new bill required training starting in the 2017-2018 school year.
As stated earlier, the exact requirements for high school students vary across states. Typically it's stated that the training provided should be in line with what's been developed by the AHA or the American Red Cross. Alternatively, it may be based on equivalent nationally recognized guidelines.
Although training is mandatory, it's not clear how many high schools actually provide CPR instructions and how many students learn the skill. Since rules and regulations are different in each state, it's possible that not all students receive training even when the school provides it. For example, Illinois law allows a parent or guardian to object to a student receiving training.
States That Don't Require CPR for Graduation
The following states have no legislation that mandates CPR training for high school students:
Hawaii
Massachusetts
Alaska
Wyoming
New Hampshire
Nebraska
Colorado: while it does not mandate it, the state does recommend CPR training.
As you can see, only a handful of states have yet to mandate CPR classes in high schools. Thus, it seems likely that, in the near future, the life-saving skill will likely be taught nationwide.
Skills Learned From CPR Training in High Schools
CPR training classes primarily teach students valuable skills such as cardiopulmonary resuscitation and the use of an automated external defibrillator (AED). However, this isn't the only knowledge high schoolers can extract from the courses.
Students also learn to deal with critical situations and face medical emergencies, like sudden cardiac arrest, with confidence. CPR training teaches high schoolers about their responsibility to help and provides a skill that may be necessary for potential job positions.
Issues Providing CPR Training to Students
Although many states mandate CPR courses, they're not always administered. This usually isn't because of a lack of care or responsibility but because schools lack the necessary funding. Instructors, supplies, and manikins can all be an expense some school districts can't afford.
To see CPR training in high schools be implemented better and more often, there would need to be additional funding provided and a larger amount of certified instructors who can train the students.
Key Takeaway
CPR training can be a decisive factor that will influence whether a person conducts bystander CPR in an emergency. With a requirement of CPR training for graduation, each year, many US states create a new group of potential lifesavers.
The majority of state legislative bodies have made it clear that students should acquire CPR training, but others may leave it up to the schools to decide. However, as we've seen in recent years, it's likely that all states will soon pass CPR training laws, and many more schools will begin to train their students in the skill.